By this invitation only, we are holding our first mountaintop picnic of the season.
The above invitation is presented to the following individuals:

Mr. Semen Varlamov, of Russia


to ensure that the American women do not eat so much and become fat

Mr. Ryan Whitney, of Massachusetts


because we hear they do not have chocolate cake in Edmonton

Mr. Daniel Carcillo, of King City, Ontario, Canada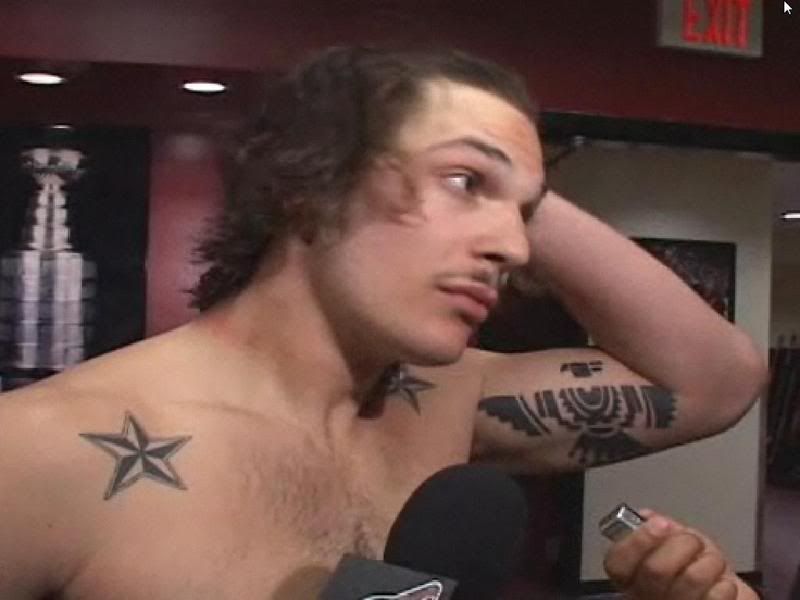 so that we can watch him eat corn on the cob

Mr. Brendan Shanahan, of Ontario, Canada


in case zombies attack during the picnic and Mrs. Davidson-Nash requires assistance with the Earth's defenses

Mr. Ilya Bryzgalov, of Russia


so that he will wear this shirt and lead the existential debate scheduled to begin at 3:25p

Mr. Patrick Sharp, of Manitoba


so he can bring the Cup and blind everyone with its shine

Mr. Jakub Voráček, of Kladno, former Czechoslovakia


for his impeccable skills at pin-the-tail-on-the-donkey

Mr. Joe Thornton, of Ontario



because we need someone to leer at the women

Mr. Bobby Ryan, of New Jersey


because he will eat all of the food before the ants get to it, and Patrick can teach him about Stanley Cups

Mr. Peter Harrold, of Kirtland Hills, Ohio


. . .because

Mr. Michael Ryder, of Newfoundland, Canada


to spite him

Mr. James van Riemsdyk, of New Jersey


because Mr. Carcillo needs someone to talk to

Mr. Wojtek Wolski, of Poland


in case Mr. Ryder pushes anyone off of a porch

Mr. Luke Schenn, of Saskatoon


as he attends all of the teas held by the widow Worsley

Mr. Shane O'Brien, of Ontario, Canada


may be indisposed and unable to attend, but Ms. Carcillo-Winnik-Goligoski would not want to overlook his interest


A specially made quilt will be laid out on the Lawn, made of vintage game-worn jerseys, treated especially for softness.
Mr. Cameron Ward, our co-coordinator of this event, will give a short address and serve cocktails promptly at 2p.
This is a closed event. Please check with your hostesses before bringing a guest.
Consider this a pre-party for the Puck Huffers Awards Show, which shall commence on the twenty-third of June.
Have a pleasant day.
UPDATES:
Brent Sopel and his family will be marching in Chicago's Gay Pride Parade this weekend, and so will the Cup
Matt Cooke has signed for 3 years at 1.8m cap hit. Thank goodness 'cause no offense, Mattie, but we didn't want to have to invite you to any of our Pity Picnics.

GO PENS.
Penguins 2010-2011 schedule released!
and the rest