THOUGH WE WALK THROUGH THE VALLEY OF THE SHADOW OF DEATH
which is apparently located in Texas.
Look it up in your Rand-McNally atlas if you have any goddamn questions.

MOMENT ABSOLUTELY EVERYTHING FELL APART


Nystrom at the very least with an unfortunate and careless play on Kris Letang. Letang didn't come back. This seems to cloud the rest of the evening, to be perfectly honest, but at the very least we got to hear Mike Milbury arguing against head shot culture in which no one is responsible and Roenick crying that it's Letang's fault. Victim-blaming isn't helping anyone's rights in this world, you know, Jeremy Roenick. Just get over it.
What's worst about this hit is Nystrom complaining about getting called for a rough when it's evident to anyone paying attention that he may have injured Kris Letang's brain. Regardless of ~intent~, you kind of just have to feel bad about hurting a guy and hope your team kills the penalty, right? From that moment on, the wheels were off and this felt like, if not a Game 7, at least a Game 5.



The Stars really give you an "oh fuck" feeling when they are on top of their game. Seriously nasty hockey club. It was 1-0 late in the first, your belief in life hinged on the taste of blood in your mouth every time you bit your tongue.
MOST FALLEN SOLDIERS


Sullivan makes one hell of a move and beats Lehtonen before the period is up. But then he'll go to the locker room, too. IT'S EVERYBODY TO THE LOCKER ROOM. WE HEAR THEY HAVE CAKE.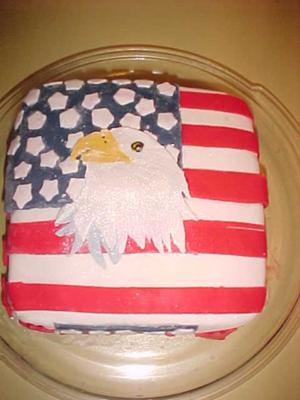 AMERICA CAKE. THIS IS TEXAS AFTER ALL.
I really don't know why I started inserting so much Americana into the blog as if the Penguins do anything "for America" but this cake is still hilarious, right?

PERSON WE KNOW THE ABSOLUTE LEAST ABOUT OF ALL TIME (AND WE'VE NOW CHANGED THAT, SOMEWHAT)


Glen Gulutzan. There is a signed picture of this guy behind the bench? Really?
We have now researched him and have determined that his most memorable life moment is playing for the Brandon Wheat Kings, which just sounds more like some kind of digestive medication every time we hear it.
He's from The Pas, Manitoba.


no idea.
According to Wikipedia, they even have a town motto: "Adventure Territory" Who the hell is this guy. Is he an impostor? What have you done with the real coach of the Dallas Stars? How long have you even been here?

MOST ADVENTUROUS TERRITORY
Where the puck was, every time it knew it was going to be near the sweet caress of Marc-André.


Like Vern was going to do anything in this game anyway.

Also, Nystrom's continued existence. An adventure in and of itself.



MOST HEARTILY FELT DOOMSDAY SCENARIO
We begged this whole game. Dallas came to play. It was tied. Then we were winning. Then they tied it. Then we were on a 4-on-3 kill in OT. Every minute seemed fate-deciding. I wish I had more to say, but I really don't. This game definitely made me feel like I was in some kind of crazy bizarro universe. Malkin attacked Nystrom, for god's sake:



End of the day, it's just really hard to celebrate even a solid team win when you know that your team lost one of your best players, again, and that they were outplayed for long stretches. We want to make it easier on you, but we can't.
It determines your togetherness as a team if you can continue to play at an extremely high level despite all of these issues. The Penguins have done that. There haven't been quite as many injuries this year as last, so the scenario isn't as bad as eking out a win against the Islanders in SO to get just those two points you need to, say, land Tampa Bay in the first round and get nutsack in your eyes.

I'm not making any sense.
You know what else doesn't make any sense?
That Dallas can afford to dress three guys per night who only play like 5 minutes.
Tomas Vincour, Ryan Garbutt (amazing name btw), and Tom Wandell, who are you?

is this post just explaining our ignorance or are they actually not a full team?
soconfused

Kris Letang gets all the alternate stars. Geno can bathe in their stardust or whatever.

GO PENS